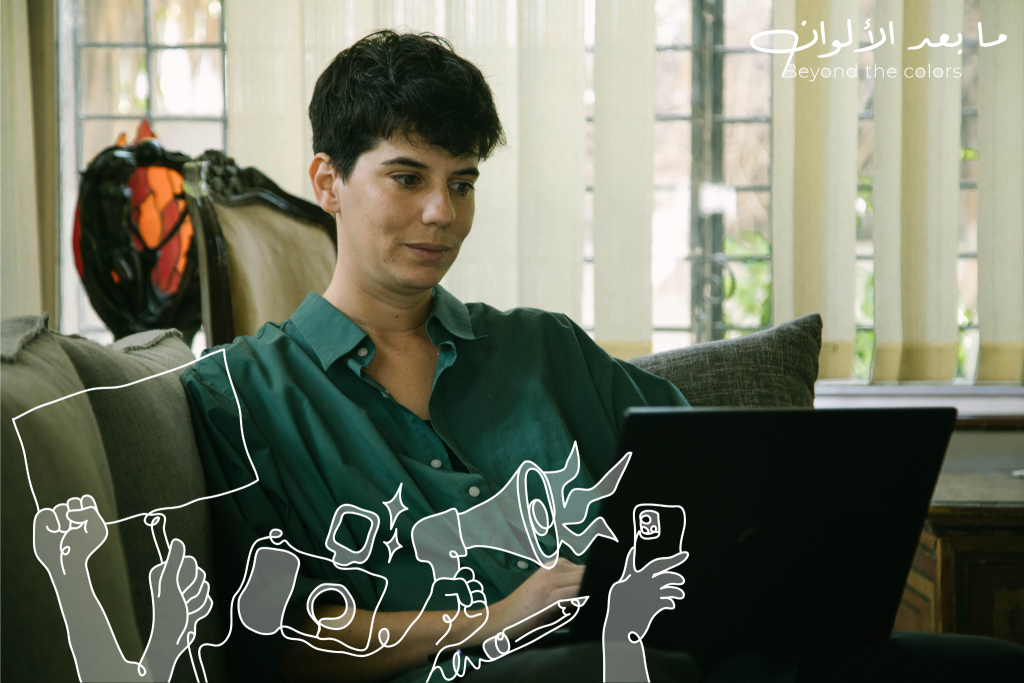 Beyond colors

,

Blog Mawjoudin

January 31, 2023
Fragments of a Queer Life
Encounter with Bochra Triki, Feminist, Queer and multidisciplinary:
By Haithem Haouel
English translation by Yasmine Ben Salah
If asked to introduce herself, Bochra Triki doesn't know what to say. She cracks a smile, seems to be pondering and stays on the lookout for definitions thrown at her. "I am a feminist, Queer, it is a part of my identity which I try to deal with in a multidisciplinary way". she says. A beautiful but brief presentation that considerably trim down an atypical career and a decade of her twenties devoted to the Queer and feminist cause in Tunisia. "Boch" is in her thirties and her rich experience speaks for itself...
The beginnings of Queer and feminist activism
At the corner of an alley, we met her. Thirsty for exchanges, we finally found refuge in a pub in Tunis. This Tunis, a place of life and theater of all socio-political developments, has a unifying vocation in the eyes of Bochra, she who has always sought to bring people together, create moments of life, encourage encounters, unify people around an artistic event or an action.
I like creating moments, gatherings and experimenting. The exchange is crucial: all my thought was built through my encounters. It is immensely important to me.
Squares, streets or avenues recount moments that mark her journey as a young activist in the making and as an asserted activist. A downtown that she has roamed since her teenagerhood, and one that she continues to explore until this day, over the course of her actions as an "Artivist".
This unbreakable bond which binds her to Tunis was welded early, since 2006, a time during which she intuitively began to weave links with Feminist and Queer groups. Diverse encounters made by chance, common interests and shared passions already outlined a distinguished community existence. "A few years before the revolution, I started hanging out with Queer groups. At that time, being Queer was not a politicized act. We were individuals who for a long time thought they were alone, who recognized each other and grouped together. It also went hand in hand with the party world. We created time-spaces to be ourselves. We all existed spontaneously, being visible everywhere we went and we didn't hide. We felt untouchable together". Bochra says speaking of that time -afterwards- that existing like this was already a way of asserting oneself, and a form of "activism".
And then comes the revolution…
"Boch" is part of this in-between generation: one who knew Tunisia before and after the 2011 revolution, an insurrection of the people that shakes lives, changes their trajectory and disrupts its own. .
Like a shocking wave, this revolution had a significant impact on student life in Tunisia, especially in Tunis. Groups were created, initiatives were born, the committed and militant spirit hovered within the walls of universities but also down the streets. Tunisian youth was dreamy and optimistic. A new era had begun with its own share of hope.
 Once a student at the ENS (Ecole Normale Supérieure de Tunis), she witnessed the birth of a dynamic of exchange between students, wondered about non-normativity and became interested in social issues. She remembers: " January 2011 was a huge turning point for me, as for many others. Prior to this fateful event, prospects were extremely dim. As young students, our career plans, our desires, our goals were limited, and almost immediately drawn. And suddenly, we could push the limits, outdo ourselves, create and act freely.". This need to be reactive without necessarily belonging to a well-defined movement had become pressing.
Bochra begins a career as an academic and continues to be on every front: Civil commitments, human rights, freedom of expression. And considering her belonging to an alternative and artistic universe, her thirst for impact and action was increased tenfold. "It was important for me to also express myself through art. It is close to my heart to deal with human rights, Queer feminism, while getting inspired by a book, by a film, or via a cultural, artistic action or an event". To act intelligently and in an indirect manner is to divert an experience or certain aspects, always through art. Devoting herself entirely to this had become a conviction to the point where she put an end to her career as a university professor, a specialist in modern literature, to devote herself entirely to activism, and respond to the call of "Chouf", a stage that was very crucial to her career.
Living and acting in a community took on its full meaning for her in 2015, when she attended the creation of "Chouftouhonna", the first Tunisian feminist festival, organized by "Chouf".
Created in 2013, the Tunisian LBT (Lesbian, Bisexual, Transgender) and feminist organization campaigned for the bodily and individual rights of people identifying as "Women" . United around the same principles and values, members of "Chouf" organized their actions, events and initiatives around Queer feminism. "Chouf" had, in its early days, already organized the first "IDAHOT" in Tunisia in the premises of the ATFD. A major event that brought her closer to the "Tunisian Association of Democratic Women" -Pioneer of the feminist struggle in Tunisia- by creating an intergenerational dialogue between feminists.
"At the very beginning, and with modest means, we wanted to move the lines, to move things forward. ". she comments. With the birth of "Chouftouhonna", "Chouf" was consolidated: Bochra Triki worked on the festival and participated in the creation of projects during the year.
Everything was done gradually: The actions of "Chouf" attracted people from the community, who were gathered around a political thought, and eager to act through art . "For me, it was perfect. It was an opportunity to give meaning to what I had always wanted to do. It was no longer about me, as an individual, but about a cause: an intimacy that is politicized as a group. It was the first time that I wanted to belong to "a force". she declares. She was appointed co-president of the collective and actively participated in the organization of the 4 editions of the festival.
With hindsight, the activist remembers "Chouf" as not having a classic and rigid structure. The doors of this collective were indeed wide open to all people who felt concerned. The organization, which has constantly changed from 2013 to 2018, has produced artistic works, organized exhibitions, advocacy, provided legal and psychological support to Queer people, migrants, seekers of Asylum, and guaranteed accommodation for queer people in precarious situations. "What was more visible was the "Chouftouhonna" festival, a showcase accessible to everyone. As for the actions that we did in normal times, they were more intended for the community."  But this driving force, which was "Chouf", has soon run out of steam.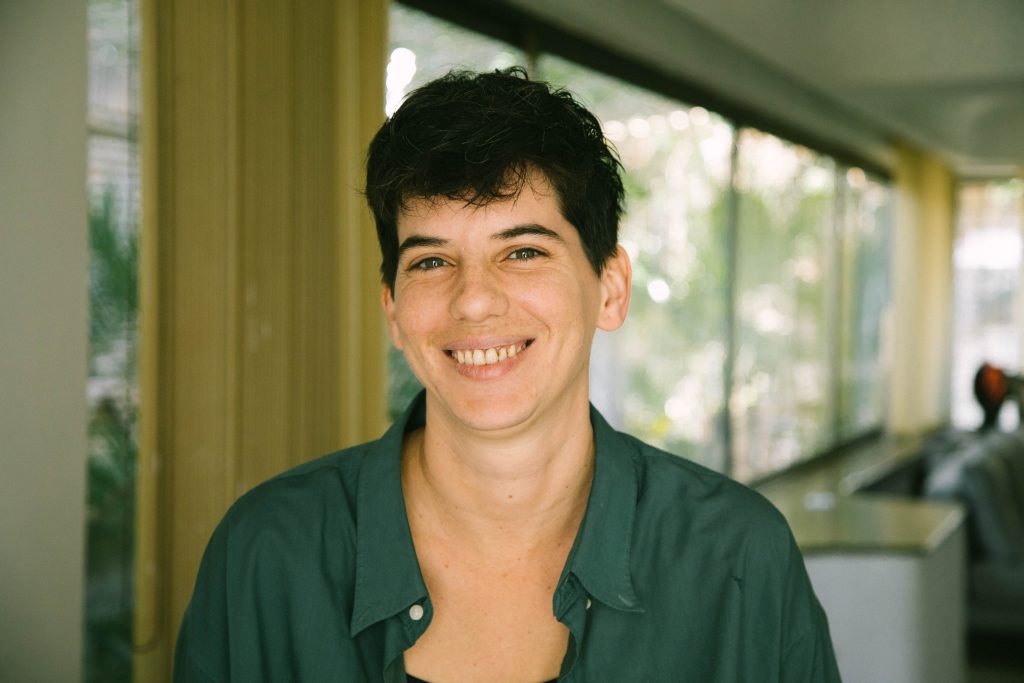 "Chouf" was not able to resist through time and was slowly but surely fading out. The 4 th edition of "Chouftouhonna" was held, despite the difficulties. Nostalgic, slightly bitter, but grateful for what this universe has done for her, Bochra Triki evokes this period with great lucidity, mentioning the difficult psychological impact that the end of the Chouf experience had on her and on other members.
However, 5 years after its end, she would say that there wasn't a single cause for this adventure to be over, and she underlines an accumulation of problems linked to the bad management of a structure that is thought horizontally, but without a proper mastery of the codes suitable for that. "Chouf" had operated on a voluntary basis for years until 6 months before it fell apart. The transformation of the collective into the premise of an organized and wage-based structure has radically affected the internal dynamics, and has called into question the very essence of the collective, its objectives, and its main mission. Staying ethical and separating what's personal from the collective's vision was not easy.
The personal has indeed joined in the turmoil, Bochra does not deny it : " The personal aspect is totally present in "Chouf". In no way do I deny this: the personal and the dedicated work involved in a collective like ours are bound to merge. Our queer and feminist struggles and gatherings are intrinsically linked to our intimacies. We found ourselves caught in a bubble generating personal stories, sometimes painful, often courageous, linked to our love in its multiple forms, which we share and experience. A collective engaged in this kind of struggle exists through and for personal relationships. Otherwise, it loses its original meaning.".
This intimacy, however, played an important role in the collapse of the collective. The core group did not have the tools or means to better manage crises. " If we were more experienced, we might have done things differently. Age played a big part too. Ours and that of our struggles. We did not have the necessary learning at the time to better manage the personal aspects and the defective elements that brought about this end." She points out. 
If a collective like "Chouf" were to be created nowadays, Bochra would henceforth favor the mastery of horizontality in a collective. "A horizontality which has its codes, its ways of being applied in order to remain viable and faithful to its own ethics, which would deconstruct the classic patterns of functioning while being strong enough to withstand difficulties.".
She hopes for the emergence of stronger structures built around human causes. "Having a constructed political thought and venturing into self-financing are also important.", recommends the activist.
The activist is grateful to "Chouf: " It's a collective that built me. It was immensely hard to watch it disappear. It's reassuring to see other collectives popping up these days, and taking over. They can do better and not repeat our mistakes. I'm here to support and encourage them." She advocates a continuity different from that of "Chouf", but specifies: "I do not accept that we get erased. I don't understand why it is happening. People who were part of "Chouf" or "Chouftouhonna" still keep the precious connections they created before, they left a trace and were shaped while being part of this collective. One day, I hope there will be a real work of documentation around this experience. We haven't archived or documented properly. We were more action-oriented, and rather busy doing things.". 
Tunisian post-2011 civil society was flourishing, it was dense: associations, collectives, and NGOs emerged and maintained many struggles. This awakening was considerable, and it is in this "ecosystem" that "Chouf" lasted for 5 years. The weight and impact of such an effervescent civil society are indisputable: Bochra Triki confirms it… nevertheless with a slight regret. "I regret that post-2011 civil society didn't get to experience one stage; that of acting without means, spontaneously, and on the field. It is to exist in collectives, groups, without funding, in a completely raw state. We didn't have time to live that way. After 2011, we went from nothing to a multitude of accessible funds, everyone rushed at it. We found ourselves following the lines of funders and donors who do not necessarily have the same codes or values as us. Other criteria arose, other ways of doing things too… And in this turmoil, everyone was trying to adapt, as best they could and go with the flow." The very essence of certain noble struggles has thus been dissolved.
At the time of the post-revolutionary burnout
Today, 12 years after the outbreak of the revolution, militancy is stagnating. A collective burnout is felt among activists, citizens, and politicians. Passion has given way to weariness and fatigue. Bochra Triki comments on this frozen situation, one that is on standby, since 2019. She sees it, yes, but always with a tint of hope: "Civil society is stagnating for lack of transmission. A transmission is still possible to maintain. After all, we ourselves were disconnected from the generation that preceded us. The new generation is immensely powerful, but also very disconnected, perhaps by choice. A generation that prefers to function in a more anarchist way, which is not to be sniffed at.". She comments in conclusion. The activist thus refers to existing standardized structures and institutions whose operating model is archaic and a non-existent political class that has been lost by dint of having changed. As for the Queer and feminist cause, it will remain intrinsic to her thinking and inseparable from her future actions.