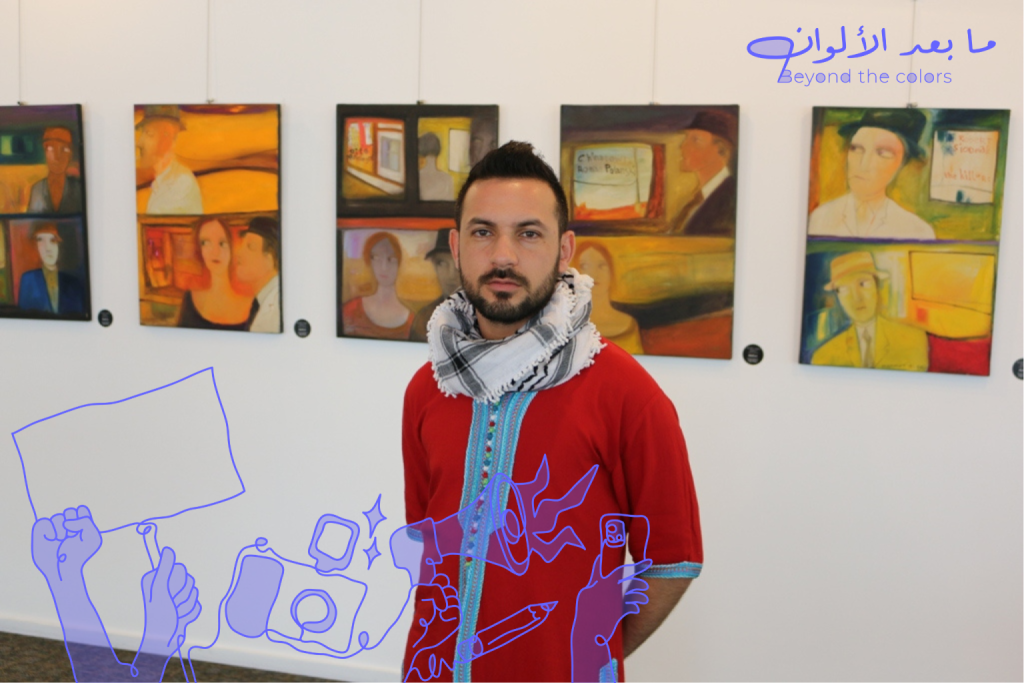 Blog Mawjoudin

February 2, 2023
One journey, Several lives
Yahia Zaidi, Algerian Queer activist
By Haithem Haouel
English translation by Yasmine Ben Salah
Yahia Zaidi has been caught up in activism and has continued to refine his commitment on all fronts for the past 20 years. A native of Algeria, everything began for him in there. It is indeed impossible to remain indifferent to his ardor for a just life, full of human values, in the service of defending human rights of queer and LGBTQI+ people.
Hearing him, it seems as if he was born for this kind of commitment. For Yahya, life is intrinsically linked to his thirst for activism, especially for the benefit of defending the human rights of LGBTQI+ people. Assisting, supporting, and providing for the needs of a vulnerable community quickly tempted him… at a time when he was pursuing an ordinary architecture-student life in Algiers.
We are in 2007 and his desire to get involved in the prevention of HIV/Aids was immediately felt
"I offered my help especially to this exposed social category of men who have sex with other men. Gays in Algiers were naturally concerned. An action of this magnitude could only touch me".
Fervently led beginnings that reflect an activism strictly linked to intimacy… Fulfilling oneself, largely on a personal level, had to start with this stage. Yahia was surviving through a forced and violent coming-out at 17 and was trying to meet up with some friends. Queer-community life was bubbling discreetly in different places of the country, who had just emerged from the black decade."As long as the community didn't attract attention, lived in the shadows, it could live. We would only have peace if we stayed out of sight," comments the activist.
Soon after, his involvement began to grow…online. The "Abu Nawas" forum brought together many interesting profiles and expanded his network of acquaintances, at the very time when he was moving up the ladder in his fight against HIV-AIDS. "Abu Nawas" experienced many upheavals before fading out … but only temporarily.
Seeing "Abu Nawas"vanish was unthinkable for Yahia as well as for countless committed and involved activists in this virtual space. A rebirth took place immediately thanks to the mobilization of a group of committed and very active people on the Gays and Lesbians Algerians (GLA) forum, who gave a second life to the Abu Nawas group, by setting up photo campaigns, online videos and speaking out during TenTen, the national LGBTQI+ day in Algeria. The strength of "Abu Nawas"resided in its network. Its representativeness, mostly ethnic, was unique. The experience was stimulating at the dawn of the emerging social networks.
Yahia Zaidi's breakthrough for the prevention of HIV STD AIDS was made in close collaboration with at least 17 Algerian ministries, representatives of the State and civil society. Many were members of the AIDS Council. His preventive work was spread out within the framework of a regional project which brought together Algeria, Morocco, Tunisia and Lebanon. Yahia benefited from capacity building within the ATL MST Sida – Tunis section, who welcomed him within the framework of exchanges and sharing of experiences.
Devoting himself to the prevention and fight against HIV was a fruitful period for the activist. He remembers: "I continue to apply all the principles learned at that time, until today. I learnt to sort out the projects, particularly those coming from European partners, to properly measure whether it is suitable for our national or regional context and not to exploit them nonchalantly. I think we shouldn't stop accomplishing as long as it's done in a thoughtful way. This is how we can better measure the dangers and how we can protect ourselves. All my defense mechanisms have been reinforced. After this period, I know how to do what I do best today, which is to defend the human rights of people in the MENA and African regions and to broaden horizons for the global south."
His journey, which promises to be hectic, has also turned out to be dizzying. Yahia Zaidi scoured the courts, gave courses at the school of judges, visited some prisons, carried out actions with the Ministry of Justice and provided medical support for people living with HIV, or vulnerable and exposed populations.
The adventure had become stormy when at one point, the committed collective of which he took part, was accused of being pro-Sionist and USA and when its members became targeted. It was a propaganda carried out by a pro-Islamist media. Death threats, harassment and insecurity hovered. "Despite everything, we withdrew before resuming the fight, but silently. This period was extremely difficult". Shortly after that, Zaidi finds refuge in Belgium. A second life was offered to him, with his small victories and his failings.
Same struggle under different skies
Once in Belgium, Yahia Zaidi landed a job as a social worker and talked mainly with asylum seekers from many countries. A job that was done by circumventing the language barrier, by guaranteeing social, medical, psychological, legal, administrative follow-up, and by providing materials and food to all those in need. Services that ultimately led to a full social integration of the people taken care of, and that was done under the supervision of the host country. "We brought back many trans and gay people and guaranteed transitions. We focused on vulnerable populations at the beginning, such as elderly people with chronic illnesses, single mothers, etc., and then we managed to get the federal government to integrate people from the community and make them a priority. We even made family reunification, which was not possible in other resettlement countries such as France, Norway or others. In Belgium, there was more freedom to act". Declares the activist. 
Yahia Zaidi was a member of Maison Arc-en-Ciel (the Brussels federation of LGBTI associations) in Brussels, which offered services to Queer asylum seekers. In partnership with Pride and the federal agency for the reception of asylum seekers FedAsil (He made sure to provide them with a "Safe" place in which they could all meet. asylum seekers from all over the world, they all met for a day and engaged in activities. Omnya was also co-created. A prolific period for the activist who was focused on action. He says: "I was often told: 'What's the point of being dead when going back to one's homeland? One might as well be useful outside." Omnya was also intended to unite people from the LGBTQI++ community who were repressing their broken identity. The association addressed mothers in order to bring them closer to their LGBTQI+ children and organized trainings. But as so often in civil society, management and leadership problems began to emerge… Wars of ego were raging. And Zaidi eventually left.
Seizing the turning points
"One of the most beautiful stages of my journey is undoubtedly "Aids Algérie", in the first place and "MantiQitna". It was then that I started to act internationally and in the MENA region, despite all discrimination". he quotes. Its mission was to mobilize all the living and committed forces of the Maghreb and others. A detailed cartography began to emerge in 2010 and has continued to develop, reaching around twenty groups of associations or collectives in several southern countries. An associative web that was beyond borders has been created and this is how Yahia has supported the creation of numerous associations in the Maghreb and in Sudan. MantiQitna's mission was to support this effervescence, including the feminist and intersectional one. MantiQitna was born thanks to Rauda Morcos with the help of 8 other co-founders: an Egyptian, a Jordanian, three Lebanese, three Palestinians and Yahia Zaidi, at the head of the Maghreb, with only him, at the start. "At our first conference called "QamB MantiQitna", only 11 North Africans participated, compared to about thirty from the Mashreq. A problem of representativeness hovered. Discrimination even took place within MantiQitna, but it was immediately driven out thanks to  strengthening of the ranks, and to the North Africans who were united to create the first Khomsa network which gave birth to Damj and other groups". Declares the activist.
Yahia Zaidi was elected Co-president of Pan Africa ILGA (2012-2016) during his term. And after disintegrating in 2010, the African federation was revived via two regional conferences organized in 2014 and 2016. The association was based in South Africa and an office was opened in the same country. Yahia was also elected Deputy Secretary General of ILGA World (2016-2018). He is currently the Advocacy Director of the global interfaith network GIN-SSOGIE. He has long made his way since his departure from Algeria 15 years ago and concludes: "I would not allow myself to talk about Algeria or to represent it after all these years. Morally, I do not have the legitimacy to do so. The idea of bringing together or initiating other people, of facilitating their access to international and regional platforms, will be an integral part of my work… always."